Italy: 5-Star set to win Rome as Renzi shrugs off local elections blow
Comments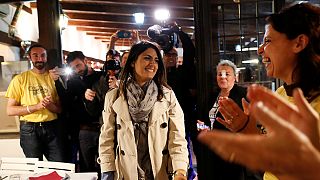 Virginia Raggi of Italy's anti-establishment 5-Star Movement has taken a strong lead in the race to become mayor of Rome – after first round local election results which were a disappointment to the governing centre-left.
Partial results gave her around 35 percent of the vote in Sunday's first round.
The 37-year old lawyer said the job was only half done but it was a "historic moment" – both because she could become Rome's first female mayor and because people in the capital had rejected electoral slogans and promises, showing they trusted a political movement that put forward what she called a "serious and transparent" programme.
The 5-Star Movement has tapped into widespread discontent over corruption in Rome. The capital hasn't had a mayor since last October when the incumbent resigned over an expenses scandal.
Alleged Mafia influence has also boosted the anti-establishment party's rise.
Raggi finished at least 10 points ahead of Roberto Giachetti on a bad night for Italy's governing centre-left.
The Democratic Party remains ahead in Turin, and only just ahead in Milan. It is out of the race in Naples where the independent leftist incumbent mayor declared his city a "Renzi-free zone".
Italy's Prime Minister has admitted the results were disappointing. But Matteo Renzi has predicted the local elections will have no bearing on October's national referendum on constitutional reform, on which he has staked his future.
Back again after his ban from office, former Prime Minister Silvio Berlusconi's party is still in the race in Milan, but elsewhere his candidates suffered heavy losses or trail behind the Northern League.
Around 13 million people were eligible to vote in around 1,300 towns and cities. The second round takes place on June 19.