Clinton wins Puerto Rico, sets sights on California
Comments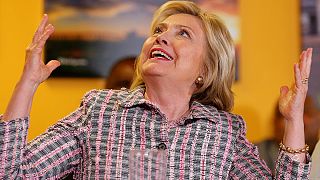 Hillary Clinton is squaring up for the last big contest in the race for the democratic presidential nomination. Opinion polls show her neck and neck with her rival Bernie Sanders ahead of the California primary on Tuesday. But she already has her sights set on battling the presumptive Republican candidate.
"I believe that (Republican presumptive presidential candidate) Donald Trump is not qualified or temperamentally fit to be president and commander in chief…Here's somebody who in the last few weeks insulted our closest allies, has praised dictators like the dictator in North Korea"
Though the race is tight in the Golden State, Clinton just secured the Puerto Rico primary, putting her on the verge of sewing up the nomination. But Sanders has vowed to stay in the race, keeping pressure on Clinton.
Donald Trump has seized on the bitter battle to attack Clinton on her inability to win the nomination, and launched a counter offensive criticising her foreign policy experience.
However, the latest opinion polls show Clinton opening up a double-digit lead over Trump in the race for the White House.