Greece begins evacuation of Idomeni refugee camp
Comments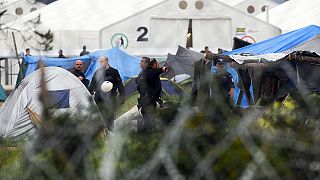 Greek authorities on Tuesday began a dawn operation to gradually evacuate the country's largest informal refugee camp at Idomeni on the Macedonian border.
If we knew what was going to happen we wouldn't have come

Refugee from Homs, Syria
The camp is currently home to an estimated 8,400 people who were heading north but became stranded after The Former Yugoslav Republic of Macedonia closed its frontier with Greece.
The residents, mostly fleeing conflicts in Syria, Iraq and Afghanistan, will be moved gradually to newly completed, organised camps.
The operation included shutting down access to the area to outsiders and sending in more than 700 police. Journalists were barred from the camp, and were stopped at a police roadblock a few miles away on a highway junction leading to the nearby village of Idomeni.
Mohammed Jarusha, 23, a migrant from Homs, Syria: said: "I will go to other camps because it's the only solution. Maybe it's not a solution but it's the only way and there is a lot of people now, they are going to other camps"
Abdul Hadid, 50, also from Homs, Syria, said: "If we knew what was going to happen to us we wouldn't have come. Our destination is Germany. We came according to the maps we have got with us, but they stopped us in the middle [of our journey]."
A government spokesperson said the police would not use force, and that the operation was expected to last about a week to 10 days.
More than 54,000 refugees and migrants have been trapped in financially-struggling Greece since Balkan and European countries shut their land borders to a massive flow of people escaping war and poverty at home.
Nearly a million people have passed through Greece, the vast majority arriving on islands from the nearby Turkish coast.