Fuel fears hit France: oil refineries blocked in protest over labour reforms
Comments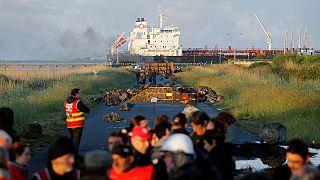 Stressful for some, the drive to work is causing a bigger headache than usual for commuters in France.
Fuel is being hit as workers block oil refineries and depots to protest against labour reforms the government claim encourage the hiring of staff.
Opponents say the bill will mean more work for less money and decreased job security.
Opinions were mixed at a petrol station near Paris.
"It's all becoming ridiculous," said one man. "It's true that they have causes to defend, but they shouldn't take (petrol) users hostage like that. But, that's France…"
"It's annoying for petrol users, but there are worse things (going on) and we will adapt, especially given everything that's happening in France at the moment. It's a small inconvenience compared to other, more serious things," another woman added.
Many consider not only the labour law, but the way it was passed, controversial. Prime Minister Manuel Valls invoked article 49.3 of the Constitution allowing the government to bypass parliament and push the bill through.
Maxime Picard of the CGT trade union said they would stay until they got what they wanted.
However, French President François Hollande has vowed not to go back on the decision.
"We've had blockades up since 2am, and we're fine to stay here. As long as they don't revoke the employment law, struggling workers will occupy this site," said Picard.
Police have lifted a number of blockades so far, but several French regions have resorted to imposing fuel restrictions per vehicle.
One fifth of petrol stations nationwide are said to be facing shortages, Transport Minister Alain Vidalies says. But Valls, who staked his career on successfully pushing through the bill, says France has enough reserves, for the moment.