Turkey's AKP wins initial support over controversial immunity bill
Comments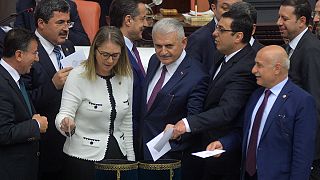 Turkey's ruling AK Party has won initial support in the first round of a controversial ballot to strip politicians of their immunity from prosecution.
Lifting immunities within this structure will lead to a coup and dictatorial reg

Co-chair, HDP Democratic Peoples' Party
For the constitution to be changed, a second ballot on Friday (May 20) will need to gain the support of 367 of the 550 MPs. At least 330 votes are needed to put the motion to a referendum.
Turkey parliament backs immunity bill https://t.co/Ksz6PJS2pvpic.twitter.com/ejM1RrVIxY

— Hürriyet Daily News (@HDNER) May 18, 2016
If the bill passes, MPs whose dossiers have been sent to the Parliamentary Speaker for investigation, could face legal proceedings. This includes some 27 AKP members, but also 51 from the main opposition, secular CHP, 9 from the nationalist MHP and 50 from the pro-Kurdish HDP.
The co-chair of the HDP Democratic Peoples' Party condemned the motion.
"Lifting immunities within this structure will lead to a coup and dictatorial regime. This will be ratification," said Selahattin Demirtaş. "We had a principal offer on immunity and they didn't accept it."
Erdogan's Plan to Lift Legal Immunity 'Targets Us' #WeAreHDP#Turkey#Turquie#Turkiethttps://t.co/DI7DblHi5Mpic.twitter.com/qL0vszHY0V

— HDP International (@hdpint) May 17, 2016
Brawls over the bill broke out in parliament earlier in May.
The AKP accuses the HDP of affiliation with the PKK Kurdistan Worker's Party, which is recognised by Turkey, the US and the European Union as a terrorist organisation.
MHP Nationalist Movement Party leader, Devlet Bahçeli, was for the lifting of immunity.
"This should be completed by the end of the week. Nobody should be afraid of giving account for their actions. Those who laud terrorists and terrorise parliament will pay the price for their betrayal," he said.