Mitsubishi boss resigns over fuel economy scandal as Suzuki says also gave wrong data
Comments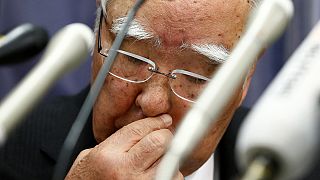 Suzuki has joined Mitsubishi in admitting used the wrong fuel economy tests for some of its cars, but Japan's transport ministry said those two were the only carmakers to do that.
The ministry made that statement after asking all vehicle manufacturers operating in Japan to re-submit fuel economy readings on all their models.
Suzuki said the tests it used were not compliant with Japanese regulations, but added proper testing carried out later showed the mileage data did not need to be changed.
Chairman Osamu Suzuki insisted the company did not intentionally use improper data but at a news conference at the Transport Ministry in Tokyo said: "We deeply apologize for not abiding by existing regulations when carrying out fuel efficiency tests."
Suzuki admits 'discrepancies' in fuel economy tests, but denies cheating https://t.co/pnZ1LxholCpic.twitter.com/aVVJQFgSc1

— The Verge (@verge) May 18, 2016
Suzuki specialises in minivehicles, which have engines of up to 660cc and get preferential tax treatment under Japanese law. It commands roughly one-third of the country's minivehicle market.
The automaker said it plans to continue sales of its cars given that new readings had not deviated much from those previously submitted, adding that it did not see much impact on earnings for now.
Mitsubishi president steps down
At a news conference on Wednesday Mitsubishi Motors revealed more about what led up to its scandal, weeks after admitting it had manipulated fuel economy for at least four vehicles.
It blamed excessive pressure, less time spent on research and development and high expectations for fuel efficiency.
"There was no direct order from top management," CEO Osamu Masuko said. "But top management did not have a firm grasp on the proceedings at the R&D department." He said there were several chances for the company to stop its workers – but it did not.
At the same time Mitsubishi's president and chief operating officer Tetsuro Aikawa announced he is resigning.
He said that he was not personally aware of the fuel data scandal before it became public but was quitting "to take full responsibility for the tremendous trouble and concern to our many customers and related people".
#Mitsubishi Motors Corporation (#MMC) confirms the resignation of President and COO Tetsuro Aikawa pic.twitter.com/zP5HsNfTKe

—

AID

Newsletter (@AIDNewsletter) May 18, 2016
Just days after word that Nissan is taking a controlling stake in Mitsubishi, Aikawa said he was stepping down so as not to stand in the way of the changes ahead: "I came to this decision as I thought we must make a comprehensive reform at our research and development sector. We are going to welcome a Nissan executive who will lead our research and development sector. I had been involved in our research and development department for 30 years and deeply rooted in our corporate culture. I could be the obstacle to the process of our reform, and that's why I have made this judgement."
Mitsubishi vice president Ryugo Nakao is also to quit.