Clinton wins in Kentucky, Sanders takes Oregon
Comments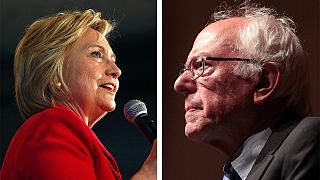 Clinton gets narrow win in Kentucky
Sanders takes Oregon
Scroll down for the latest on delegate numbers
Clinton on-the-nose in Kentucky
Hillary Clinton has had a narrow win in the Kentucky primary.
With the majority of votes counted, the former first lady was only 0.5% ahead.
We just won Kentucky! Thanks to everyone who turned out. We're always stronger united. https://t.co/8qYPHIje8Ipic.twitter.com/elNUP4nFoO

— Hillary Clinton (@HillaryClinton) May 18, 2016
Democratic presidential hopeful Clinton has a significant lead in the number of delegates.
She remains the front-runner to be nominated as the party's presidential candidate in June.
What about Bernie Sanders?
.BernieSanders</a> sticks it to the Democratic Party <a href="https://t.co/y7UY8yZlRN">https://t.co/y7UY8yZlRN</a> | Getty <a href="https://t.co/5b3RfWuVfl">pic.twitter.com/5b3RfWuVfl</a></p>&mdash; POLITICO (politico) May 18, 2016
Clinton's main opponent, Bernie Sanders, has won the primary in Oregon.
He has refused to give up the fight. Resisting pressure to bow out, he says he will be in the contest "until the last ballot is cast".
"When we began this campaign a little over a year ago, we were 60 points behind Secretary Clinton in the polls. We had no political organisation, no money, very little name recognition. The media and the pundits determined that we were a 'fringe' candidacy. Well, a lot has changed in the last year," Sanders told reporters.
Both Democrat candidates are now heading into the "delegate-rich" California primary next month.
Analysts are reading the neck-and-neck primary race between the pair as an indication of how divided the party is.
Delegate tracker
Democrats (need 2,383 to win)
Hillary Clinton – 2,291
Bernie Sanders – 1,528
Republicans (need 1,237 to win)
Get the latest on delegates for the Democrats and Republicans here