'I will never give up' says Dilma Rousseff following suspension as Brazilian president
Comments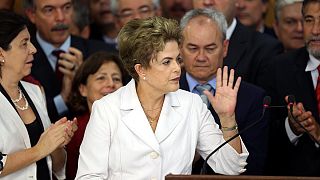 Dilma Rousseff has given an emotional speech in the wake of her suspension as President of Brazil, denouncing what she has labelled a coup d'état.
She told those gathered at the Planalto Palace that she is confident she will win the fight against impeachment, closing her impassioned statement with the words: "I will never give up."
Rousseff's presidency will be suspended for up to six months pending a Senate trial to determine whether or not she broke budget laws ahead of her 2014 re-election.
"I may have committed errors, but I have not committed crimes," she said, following the 55-22 vote against her.
Vice President Michel Temer will assume the presidency for the duration of her trial.