Paris May Day rally against labour reforms turns violent
Comments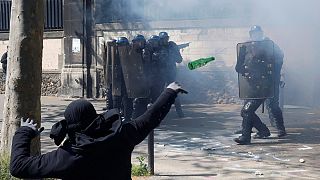 Tear gas and arrests during Paris May Day rally
Marchers opposed to labour reforms
Protesters clashed with police in Paris on Sunday during a May Day rally against planned labour reforms.
According to the authorities around 300 youths were responsible for the violence – the main rally had earlier been peaceful.
Missiles were thrown and police responded with tear gas. At least 18 people were arrested.
Huge Network | #Europe Clashes erupt at French May Day march https://t.co/fDhNSIkI8c#BBC#News#HNN

— H.N.N | HugeNetwork (@HugeNetwork_EN) May 1, 2016
An estimated 70,000 – 80,000 people (according to the CGT union) had attended the main march which took place as the French government prepares to debate the controversial reforms in parliament.
"I do not ask for a change of the law, I ask for the total withdrawal of this law and to maintain hard won social progress for the people. I demand to have the right to live decently from one's work," said one protester.
France's Labour Minister Myriam El Khomri claims the draft bill "is fair and necessary for the country".
The rally echoed several protests in recent weeks by trade unions. They say the reforms are an attack on workers' rights. The government says more flexibility is needed to cut unemployment which is running at over 10 percent.