National issues highlighted in Europe's May Day rallies
Comments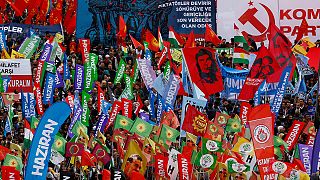 May Day celebrations turned sour in Istanbul as Turkish police fired tear gas and sprayed water cannon at anti-government protesters.
They were prevented from entering the main Taksim Square which was closed by the authorities.
A man was killed in an accident after being run over by a police truck.
Security was tight with some 15,000 police deployed, following two terrorist attacks in the city this year blamed on ISIL.
In Paris the events were marked by opposition to the French government's labour reforms, aimed at freeing up the hiring and firing of workers to tackle chronic unemployment.
One young protester in the Place de la Bastille echoed the feelings of many: "liberalising the labour market is not democratic and social progress," he said.
Many countries had their own particular theme. In Germany unions called on people to oppose xenophobia , right-wing extremism and a divided society.
The main rally took place in Stuttgart, where the anti-immigration Alternative for Germany (AfD) party was holding its congress – and on Sunday, voted to back an election manifesto saying Islam was incompatible with the constitution.
Italy's President Sergio Mattarella paid tribute to people killed at the workplace, laying a wreath at the headquarters in Rome of the government agency for insurance against work-related injuries. Last year saw a 16 percent increase in fatal injuries at work.
Rome's San Giovanni Square is also the venue for a traditional May Day concert. The organisers dedicated this year's event to Italian student Giulio Regeni, murdered in Egypt.
Left-wing party leaders joined thousands in Madrid as Spain's two main unions highlighted low pay, workers' rights and social exclusion – targeting the outgoing conservative government eight weeks before parliamentary elections.
Moscow staged its traditional rally in Red Square – while thousands of Russian communists also marched, nostalgic for the Soviet past as they called for a return to state-controlled resources.