Lisbon is a no-go, taxis on a go-slow
Comments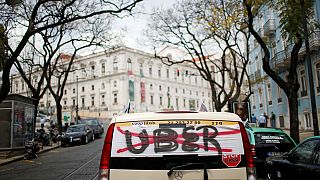 If Uber were a platform that provided a proper taxi service, then we would be happy with it
6000 taxis block main cities in Portugal
Drivers say ride-hailing service Uber is illegal
Uber says it operates within the law
Polls suggest the majority of Portuguese are in favour of Uber
Lisbon city centre is the latest European capital to be snarled-up by traffic jams.
Thousands of taxis have snaked their way through the Portuguese capital on a go-slow.
It is the latest protest of its kind in Portugal.
Imagens da marcha lenta dos #taxistas contra a #Uber em Lisboa. AO MINUTOhttps://t.co/7LPUVBplmQpic.twitter.com/9UGF0DYSQQ

— tvi24 Últimas (@tvi24ultimas) April 29, 2016
EL #TAXI EN #PORTUGAL#CONTRA#UBERhttps://t.co/m7woAt3bwU#PracticaEspañol#Espanol#Lisboa#Lisbonpic.twitter.com/xYcITAA0P5

— Practica Español (@practicaespanol) April 29, 2016
There have also been demonstrations in the cities of Porto and Faro.
Similar protests have taken place elsewhere in Europe, the United States and India.
What is the protest about?
Unions representing an estimated 13,000 Portuguese taxi drivers are pressuring the government to crack down on the Uber paying passenger service.
The smartphone-based service started business in Portugal in 2014.
One driver said if Uber were a platform that provided a proper taxi service, then they would be happy with it. "There are other taxi services, like MyTaxi and 99. If they worked liked that it would be fine. But they are giving the work to people who are not legal taxis."
Antral, one of Portugal's main drivers' associations, obtained a civil court ruling in 2015 preventing the firm from operating nationwide.
However, the ruling was filed against Uber's US-based and not European-based affiliate.
Why are they against Uber?
The professional taxi drivers are against the ride-hailing service because:
There are no fixed prices
Drivers do not have the correct insurance
Portugal already has enough taxis
The two sides have been fighting in court for the last year.
What does Uber say?
The company insists it operates within the law:
Its drivers are properly licensed
They have the appropriate insurance
A recent Eurosondagem poll suggests 72.3% of Lisbon and Porto residents are in favour of Uber, while only 9% are against.
Read the details here (in Portuguese)
What does the Portuguese government say?
It is studying the legal arguments
Officials are waiting for guidance from the European Commission
Taxi drivers have been given 17 million euros to modernise their vehicles