As iPhone sales slide, what is Apple's next big money maker?
Comments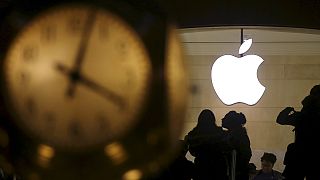 Apple has announced its first-ever fall in iPhone sales and first revenue drop in more than a decade.
It doesn't look like there is anything that would drive significant growth for Apple from here
The problem is expectations are high after 51 consecutive quarters of uninterrupted sales growth.
Technology analyst Frank Gillett with Forrester Research pointed out they are dealing with market saturation, competition from low-cost phones and people not changing handsets so often: "It doesn't look like there is anything that would drive significant growth for Apple from here as they've been behaving. If they came out with a breakthrough product or price, then you might see a change, particularly if it's different than the other smartphone makers in this market, but absent that kind of innovation in price or features, I think we're in a much more gradual and uncertain market."
The price of its shares fell as much as eight percent when the sales figures were released but trimmed some of those losses on Wednesday.
#Apple's 7.5% decline today takes it within spitting distance of the $92.10 52-week low $AAPL RO pic.twitter.com/lUZ8F7XPka

—

IGS

quawk (@IGSquawk) 27 April 2016
Apple sought to reassure investors by saying there is strong demand for its latest and cheapest model, the SE, which went on sale a month ago.
But Reuters reported it had spoken to some retailers and suppliers in Asia who contradicted that view.
"I've been dealing with iPhones for five to six years now. This current quarter for Apple feels weak," said an executive at a Taiwan-based company whose components are used in iPhones including the SE model.
He added: "Our current shipment situation for Apple is not like the last two years. There are more iPhone models, but the total volume of iPhones is falling."
Asked about the iPhone SE, Apple's Chief Financial Officer Luca Maestri told Reuters: "The situation right now around the world is that we are supply-constrained. The demand has been very, very strong."
Sales in China, Taiwan and Hong Kong were down 26 percent in the last quarter. That region, known as Greater China, is Apple's most important market after the United States and generates a quarter of the company's revenue.
To counter falling smartphone sales Apple has been looking to services such as iCloud storage, Apple Pay mobile payments and its music player.
There revenue rose by 20 percent, which means the company now makes more money from services that it does from selling Mac computers.
Analyst Frank Gillett said: "The interesting thing is are they going to start making more money off iCloud, and I think there's huge client engagement in the iTunes services, music and iCloud. I don't think this company is set up right now to make gobs and gobs of money that way, but I think that's an important thing to watch, and in particular, watch the progress of the app ecosystem."
But the question remains – what will be Apple's next major money maker?