Japan: land of the rising drone - but only for golfers
Comments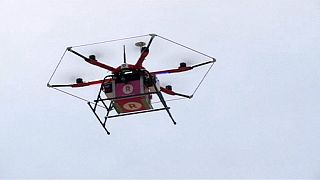 The world's first commercial drone delivery service is about to be launched, in Japan by the e-commerce giant Rakuten.
It is rather limited however – initially delivering only to players on one golf course near Tokyo, carrying drinks, fast food and golf balls.
Japan's government actually just tightened laws on drone flights over residential areas and city centres, but allowing commercial drone usage by certified professionals in certain circumstances and over private properties.
Rakuten's boss Hiroshi Mikitani said he wants to expand the service: "There are over 3,000 golf courses in the country and I think that's a big market. By sharpening the technology and operations here, we want to develop it for everyday use such as shopping as well."
Another pic of Rakuten's #autonomous delivery #drone "Sora Raku" on the green in Chiba, #Japanpic.twitter.com/xfORLY63yf

— Rakuten Today (@RakutenToday) 25 April 2016
The service will begin in early May at the Camel Golf Resort in Chiba prefecture.
The drone can carry up to 2.0 kilograms (4.4 lb) of weight and takes off from within the golf course with a range of 30 kilometres.
It goes by the name 'Soraku' which translates as "easy sky," and was developed by Rakuten and Japanese drone manufacturer Autonomous Control Systems Laboratory Limited.
In the United States, Amazon and Walmart are among the companies that are keen to use drones for deliveries.
In Europe, the Swiss postal service has been testing drones amid moves to change laws in response to the new vehicles in the skies.