Putin attempts to reassure Russia as economy continues to decline
Comments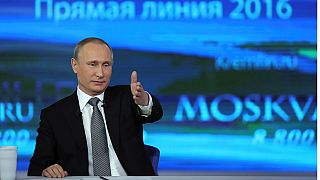 Russian President Vladimir Putin has tried to reassure ordinary Russians about the state of the country's economy.
We must focus on coping with our internal problems, not on coping with the US #Putinpic.twitter.com/ur9bKOFXb4

— President of Russia (@KremlinRussia_E) April 14, 2016
Last year inflation was running at a crippling 12.9 percent not helped by an embargo on food imports from Europe, which is pushing up prices.
Putin says he shares Russians' pain over economic hardship: https://t.co/VsNr9HzOC0pic.twitter.com/HGalDWLLJH

— Reuters Business (@ReutersBiz) April 14, 2016
The rouble is also falling.
Putin played a well worn card: "I hope and I am almost sure that this economic crisis is a temporary situation and that with markets being filled with locally-produced foodstuff, prices will be going down as well."
#Russia#Putin Presides Over A Slide Into Poverty russiafiles</a><br>But polit change not expected<a href="https://t.co/mjXeONOXfL">https://t.co/mjXeONOXfL</a> <a href="https://t.co/NcBleQRpbY">pic.twitter.com/NcBleQRpbY</a></p>&mdash; Nicolas Tenzer (NTenzer) April 1, 2016
Last year GDP fell by some -3.7 percent, with another decline expected for 2016, Putin searched for the positive: "The situation has not been fixed yet, but there is a positive trend. The gross domestic product declined by -3.7 percent in 2015. This year the government expects the economy to continue to decline slightly."
Not everyone agrees by how far the Russian economy will shrink; the IMF says -1.8 percent, the Russian Central Bank -1.5 percent and the Russian Economy ministry, closest to the Kremlin, 0.3 percent.
A key question is how long can the Russian economy survive with oil prices bumping along at $44 a barrel, Russia has agreed a output freeze with Saudi Arabia ahead of Sunday's crucial OPEC meeting in Doha.
Iran, freed from sanctions on oil production described any freeze as "ridiculous."
World Bank downgrades Russia's economic forecast and predicts over 1M will be in poverty https://t.co/oCmo2EICQHpic.twitter.com/WgPrxth3bb

— Intl. Business Times (@IBTimes) April 7, 2016