Uber agrees $25m lawsuit over driver vetting and fees
Comments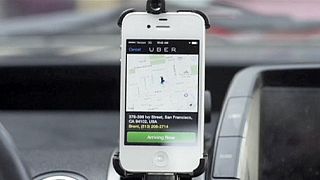 The taxi-hailing service Uber has agreed a 25 million dollar settlement to end a lawsuit in California.
It has been accused of misleading customers about the scope of its background checks on drivers.
Critics have said they are not thorough enough to weed out potentially dangerous workers.
The agreement bars Uber from making untrue statements about those checks and from charging airport "tolls."
It also has to make sure that fare calculations meet state standards.
Uber says it has already made many of the changes. Revisions include no longer calling its service the "safest ride in the world" or describing its background checks as "the gold standard."
Uber must pay 10 million US dollars within 60 days and the remaining 15 million will be waived if Uber complies with the terms of the agreement for two years, according to district attorney statements.
Uber to pay $10 million to settle background check lawsuit https://t.co/p3QPjRsL6V

— Mashable (@mashablesite) 8 April 2016