France passes divisive law criminalising customers rather than sex workers
Comments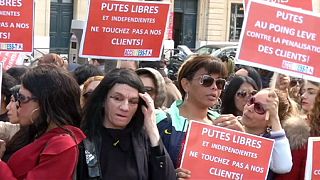 Prostitute clients in France to face 1500 euro fine if caught
Law aimed as protecting exploited women
Critics say it will push sex workers further underground
A French law passed in the country's parliament on Wednesday which criminalises the clients of prostitutes rather than sex workers has divided public opinion.
Law could push sex workers further underground
Pénalisation des clients : je travaille auprès de prostituées. Cette loi les met en danger https://t.co/phwv1IBvFipic.twitter.com/DHLWMlBrek

— Le Plus (@LePlus) April 6, 2016
Under the new legislation anyone caught purchasing sex will be fined 1500 euros and required to attend classes on the harms of prostitution.
Some feminist groups who have been pushing for the abolition of prostitution say the law will help exploited women.
"Prostitutes will no longer be seen as criminals. When they are abused, they can file a complaint in a police station which they did not dare doing before. The power relationship with their clients will be completely different as they will be in a position of strength such as "I am not guilty, but you, what you're doing is against the law," said Claire Quidet a member of an anti-prostitution group "Le Nid".
law Prostitutes made more vulnerable
But opponents of the law such as campaigner Elizabeth Lansey warned that cracking down on clients could push sex workers further underground and into vulnerable situations with less protection.
"If customers are penalized, they will be scared, the girls will have to hide in order to practice their trade — which is legal — and as the one who might get into legal trouble, the customer will be able to impose even more of his choices, including unprotected sex."
The legislation will treat the sex worker as a victim rather than a criminal. It will also make it easier for foreign sex workers, many of whom are illegally in France, to acquire a temporary residence permit if they embark on a programme to find other work.
In France, prostitution itself – receiving money for sex – is not a crime. But activities around it are. Laws prohibit pimping, human trafficking and buying sex from a minor. Brothels were outlawed in 1946.
European approach
The move makes France one of only a handful of European countries to follow the Nordic model of criminalising consumers rather than sex workers. These include Norway and Iceland. Last year, Northern Ireland introduced legislation to make it the only part of the UK where people can be convicted of paying for sex.
In a separate development the German cabinet on Wednesday (April 6) agreed to push ahead with a law that will see men who use forced prostitutes face between three months and up to five years in jail.
Speaking ahead of the meeting, Justice Minister Heiko Maas said the law was meant to have a "preventative effect" to deter those who would be clients of prostitutes, who are victims of human trafficking. "As a state, we made a decision that we do not accept and also do not tolerate such a thing," he declared.