China's "death simulator" set to pull in crowds
Comments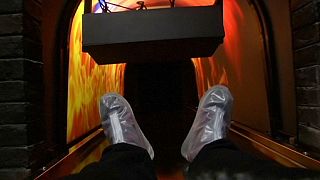 It is a whole new take on the "game of life". In fact its a game of death. Xinglai which is "awaken " in English is an attraction opening in Shanghai where participants are given the opportunity to be "killed off" by their peers "cremated" and then "resurrected" by birth through a latex womb chute.
#Reuters reports broadcast by #TheIsraelCompany✡: Be 'cremated' in China's death simulator https://t.co/IWW4lYBYFi

— The Israel Company (@israel_flash) April 3, 2016
It seems to be popular among those who got a sneak preview. One of those was 33-year-old Lu Si Wei:
"The "death simulator" is really interesting. It at least gives you the chance to calm down, and give in to some deeper thoughts and think about some of life's problems. I think this (feeling) is different. When you walk through that door, you will experience some changes in your mentality, and it will be different from what it was before you entered. I think this is really great, and very worthwhile."
Participants can also write down their "final" reflections and their "last words before death", to take home as a souvenir or to shred on the spot.
The entrepreneurs behind it say they want to help people forget their problems and gain a different perspective of life.