Turkey-US relations are strained as Erdogan arrives in Washington
Comments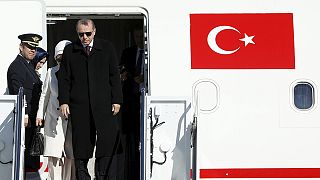 Obama and Erdogan to have 'informal' meeting
Turkish President will have formal talks with US Vice President Joe Biden
Disagreement over the Kurdish question
US security fears mount over Turkey
Obama and Erdogan
Turkey's Erdogan says will meet Obama, other leaders at summit this week https://t.co/BUuc1MWAoq

— Reuters World (@ReutersWorld) March 29, 2016
Will an informal meeting with Obama be enough for the Turkish president?
There is absolutely no connection whatsoever to the Turkish visit
Recep Tayyip Erdogan has arrived in the United States for a nuclear security summit.
However, he will not have a formal meeting with his counterpart, US President Barack Obama.
Obama will only have informal talks with Erdogan in Washington this week.
It has been announced that the Turkish president will have a formal meeting with US Vice President Joe Biden.
The US has also ordered the families of all military and diplomatic personnel to leave southern Turkey due to security concerns.
It has also warned its citizens not to travel to the region.
The White House has dismissed suggestions that all three factors amount to a snub for Ankara:
"The decision to do this, the timing of it was completely considered independently of the nuclear security summit and the visit here to Washington by Turkish officials. Absolutely no connection to that whatsoever. This was done, as it should be, based on the security threat and our concern about the safety for American citizens", spokesperson John Kirby told reporters.
Erdogan will be one of 50 world leaders attending the nuclear security summit in Washington on Thursday and Friday.
Bones of contention
Although allies, Washington and Ankara are sharply divided over the Kurdish militia in northern Syria.
The militia has US military support
Ankara has a large ethnic Kurdish minority and sees US support as a national security threat
US increasingly critical of Turkey's record on freedom of expression
Who is Fetullah Gulen?
Erdogan wants the US authorities to take steps against a network of schools run by a movement affiliated with the Islamic preacher Fetullah Gulen.
A Turkish cleric based in the US
Faces terrorism charges in Turkey
Ally-turned-foe of Erdogan after 2013 graft investigation
Denies his followers sought to topple the Erdogan government
Mounting security concerns
US orders diplomatic and military families out of southern Turkey due to 'increased threats from terrorist groups' https://t.co/Ty070RAQoo

— Business Insider (@businessinsider) March 29, 2016
Security concerns have prompted Washington to act
The US State Department has warned its citizens against travelling to southeastern Turkey.
It also warned of "increased threats from terrorist groups throughout Turkey".
The White House has also ordered the families of US military and diplomatic personnel to leave parts of southern Turkey.
670 dependents of US military personnel told to leave southern Turkey
Order includes Incirlik air base, used in the fight against

ISIL

Izmir, Mugla provinces also involved
Security in Istanbul, Ankara "satisfactory"
What they are saying
"This also includes continuing to intensify our coordination on key aspects of our counter-ISIL stragety, including ramped-up efforts to secure the Turkey-Syria border." – White House spokesperson Josh Earnest tells reporters the US has a lot of important work to do with Turkey.
"The real money launderers are there (in the United States). Have the authorities taken any steps towards them?" – Recep Tayyip Erdogan, referring to Fetullah Gulen's network.