S&P downgrades eurozone economic growth and inflation forecasts
Comments
By
Euronews
with
Reuters, Standard & Poor's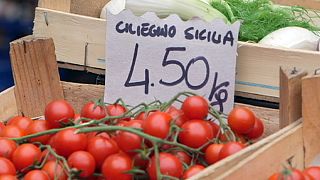 Rating agency Standard & Poor's has cut its forecasts for eurozone economic growth and inflation.
It blamed a "nosedive" in financial conditions since the start of the year.
S&P now expects gross domestic product in the 19 countries of the euro area to grow at 1.5 percent this year.
Last November its forecast was 1.8 percent.
In 2017 it is predicting expansion of just 1.6 percent.
We have trimmed our growth projections for the #eurozone#economy for this year (now 1.5%) and next (1.6%) https://t.co/AR91Cf8Xm8

— Standard & Poor's (@standardpoors) 30 March 2016
On inflation S&P's economists said it will likely be just 0.4 percent this year; previously they thought it would rise to 1.1 percent.
For 2017 eurozone inflation is expected to reach 1.4 percent, slightly down from the original 1.5 percent.
And Standard & Poor's chief economist for Europe, the Middle East, and Africa, Jean-Michel Six, warned that "central bank actions are having a diminishing impact on inflation and growth prospects" while expressing concern that they were trying to address problems they cannot control, such as the fall in commodity prices and a lack of support from governments for economic reforms to boost competitiveness.
The economic forecasts do not have a direct impact on S&P's sovereign ratings of countries, but the shift in the fundamentals does feed into underlying analysis.