Belgium: The people known and suspected of being linked to the attacks
Comments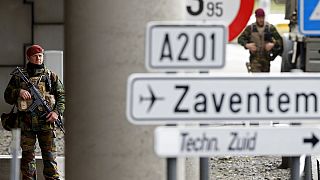 The investigation into the terrorist attacks of March 22 in Brussels, claimed by the so-called Islamic State have brought to light the ramifications for Europe by the network of jihadists. At the arrivals terminal at Zaventem airport 15 people were killed. That its seems is the only certainty.
There is an image is of Najim Laachraoui and Ibrahim El Bakraoui who were the suicide bombers. Accompanying them is the man in the hat who left the bag with an explosive charge in the terminal and reportedly fled while the other two detonated their bombs.
Twenty-nine-year-old Ibrahim El Bakraoui, a Belgian was a former armed robber sentenced to 10 years in prison in 2010. He was arrested on the Syrian border by Turkish police and deported to the Netherlands. It was not followed up.
Najim Laachraoui had been an engineering science student and it's reckoned he had had technical training. He could have been the armourer. His DNA was found on two belts which were discovered in Paris. He went to Syria in 2013.
The identity of the man in the hat remains a mystery after the release on Monday of a suspect. The hunt goes on.
The suicide bomber who blew himself up in a metro train at the station was Khalid El Bakraoui the brother of Ibrahim.
The 27-year-old had been sentenced to five years in prison for car-jacking in 2011. He used fake ID to rent an apartment in Charleroi which was used as a safe house by some of the Paris attackers. He had been on international wanted lists since December.
It was Khalid who had rented an apartment in Forest in Brussels where on March 15 police found Saleh Abdeslam's finger prints. He was arrested in Molenbeek three days later after more than four months on the run.
The 26-year old has reportedly told investigators he arranged logistics for the Paris attacks where he was to be one of the suicide bombers until he backed out.
His brother Brahim Abdeslam was deported from Turkey accused of trying to join militants. He was questioned on his return but Belgian police found no reason to detain him. He blew himself up at a Paris cafe.
A CCTV image taken on November 11 in a service station in France shows Saleh Abdeslam with Mohamed Abrini.They were in a car used in the Paris attacks.
Abrini is on Europol's top 50 most wanted list. LIke the Abdeslam brothers he grew up in Molenbeek and is known to have fought in Syria. He remains unaccounted for since the Paris attacks.
Reda Kriket was arrested on Thursday in a Paris suburb and is suspected of belonging to a militant network planning an attack in France. He had been sentenced in absentia to 10 years in Belgium last year for recruiting Islamist fighters for Syria.
Forty-year-old Algerian Djaml was arrested in Italy on Saturday. He is suspected of making false documents used in the Brussels and Paris attacks and being part of a criminal network which produced fake documents for illegal immigration.