Rio Olympic velodrome delays force cancellation of test event amid widening corruption scandal
Comments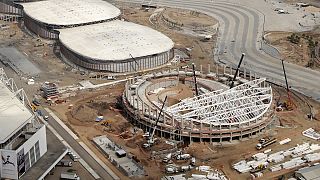 Delays in the construction of the Rio Olympic velodrome has forced organisers to cancel its only test event before the Games, as Brazil's widening corruption scandal threatens to affect final preparations.
The track cycling test event had been due to take place from April 30 to May 1, rescheduled from mid-March, but problems with the installation of the wooden track has meant the venue will not be ready until May 31 at the earliest.
The cancellation now means there will be no dry-run of the velodrome before competition commences in August, a measure widely regarded as being crucial in ironing-out any potential problems.
"The track cycling test event has been cancelled and will be replaced by a training opportunity June 25th through the 27th," Mario Andrada told reporters. "We are 120 per cent confident it will be ready for the Olympics."
"We had some logistical problems, such as unloading the wood into the venue and to install containers and offices, and we realised that it was too close for us to make sure that the track was perfectly installed."
The news comes despite Rio 2016 president Carlos Nuzman remaining bullish earlier this month that the test event would go ahead as planned.
Rio organisers have largely been successful in delivering the venues, but the latest delay to the velodrome has only added to the other countless issues surrounding South America's first Olympics.
Officials are struggling to grapple with fears over the mosquito-borne Zika virus, lacklustre ticket sales, nearly $500 million in budget cuts, as well as the high levels of pollution in the Guanabarra Bay sailing venue.
It is thought Brazil's sprawling corruption scandal could also affect Games-related projects, after local media published spreadsheets appearing to show illicit payments between key stakeholders.
The scans of the documents are yet to be verified, but the massive scope of the payments from construction giant Odebrecht to politicians such as Rio Mayor Eduardo Paes, have raised concerns in a country where corruption is endemic.
CEO of the firm, Marcelo Odebrecht, has already been sentenced to 19 years behind bars for corruption. Odebrecht itself continues to be oversee the delivery of many Olympic projects and other civil construction works.
"We remain confident that Olympic constructions — at least sports constructions — are not into this whole issue (of corruption)," Andrada was forced to confirm on a conference call. "In the position we are, we cannot worry too much about things."