ISIL suffers series of blows in Iraq and Syria
Comments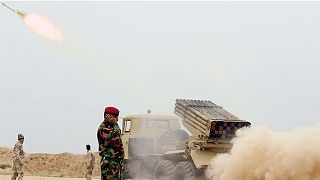 Fighters from the so-called Islamic State are reportedly on the retreat in the Syrian city of Palmyra which they captured in May last year. After an assault by government troops backed by Russian airstrikes, the desert city's old citadel is said to have been retaken.
Earlier, in another blow to the extremist group, the US said its forces had killed several senior ISIL leaders including its second-in-command Abd al-Rahman Mustafa al-Qaduli, also known as Haji Imam. The operation has been described as marking a shift in US strategy as it focuses on targeting the extremist group's top leadership.
Many of Palmyra's ancient monuments have been blown up by ISIL in what the United Nations described as a war crime, although TV footage on Friday showed at least some structures still standing.
As well as being a UNESCO World Heritage site, the city is strategically important, controlling routes east into ISIL's heartland – and its recapture would mark the biggest reversal for the extremist group since Russia's intervention in the conflict on the side of President al-Assad.
"This victory happened because of the will and determination of the soldiers in battle. We have liberated Palmyra castle, and the remnants of the militants are fleeing in the direction of Raqqa and Deir al-Zor," said one Syrian army officer in Palmyra.
DirGen of UNESCO</a> welcomes <a href="https://twitter.com/hashtag/Palmyra?src=hash">#Palmyra</a> liberation <a href="https://twitter.com/IrinaBokova">IrinaBokovahttps://t.co/gwLGOG7P9F#faces4heritage#Unite4Heritagepic.twitter.com/nnoqssLCOt

—

UNESCO

Chair,

USI

(@UNESCO_USI) March 25, 2016
In Iraq too, the army has launched an offensive against ISIL around Mosul, its main bastion. The extremists are said to have been pushed out of several villages in the region.
Iraqi troops have set up base alongside Kurdish peshmerga and US forces some 60 kilometres to the south, in the Makhmour region. Thousands of troops have been deployed in recent weeks.
Backed by air power from the US-led coalition and by the peshmerga, Iraqi troops have advanced westwards – but they are said to have made slow progress on Friday because militants had booby-trapped streets and buildings.
A Kurdish news agency has released film of Yazidi women and children recently freed from ISIL captivity in an emotional reunion with family members.
The Sulaimaniya-based Roj News said forces from the Sinjar Resistance Units (YPS) and Protection Force of Sinjar rescued 42 Yazidi children and 10 women.
Some of those held captive described the abuse they had suffered and said the peshmerga had failed to defend them from the militants.
Last week the Iraqi government said security forces had freed one group in a covert operation.
#Yazidi Women, Children Freed in IS Prisoner Exchange VOANews</a> <a href="https://twitter.com/Rojnewsku">RojnewskuEzidiPress</a> <a href="https://t.co/DGJSXBZ00O">https://t.co/DGJSXBZ00O</a> <a href="https://t.co/nVbnptkwVk">pic.twitter.com/nVbnptkwVk</a></p>&mdash; Mutlu Civiroglu (mutludc) 25 March 2016