Impossible to reduce threat of IS terror to zero: Europol chief
Comments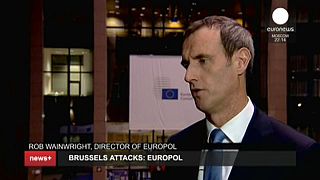 The "complexity" of IS networks means governments can never "reduce the threat to zero" of further attacks, Europol director Rob Wainwright said in an interview with euronews on Thursday.
The former British intelligence official was speaking to euronews correspondent James Franey on the sidelines of a meeting of EU interior ministers, who were meeting following the attacks in Brussels on Tuesday.
"It is clear that there are links between the attacks here and those in Paris," the Europol director said, "The network spreading between those countries, and maybe further, is the priority of the investigation."
"We have to understand the gravity and the complexity of the networks that are up against," he said. "It is not simply possible in those conditions to reduce the threat to zero."
However, he added that he expected the attacks, like those in Paris last year, would enhance European security co-operation and improve country's abilities to fight the threat.
"We are growing up as a community, we are becoming a stronger community together in order that we can track what is clearly a very dangerous aggressive form of international terrorism," he said.
He said that at least 5,000 Europeans have gone to Syria and Iraq, but officials do not know how many have returned due to "fragmented intelligence" on those individuals.
"It is not always so evident that they are indeed confirmed terrorists," said Wainwright. "It is a highly challenging security situation that we face in Europe. One of the most challenging that I have seen in my career."