Cuba ready for historic Obama visit
Comments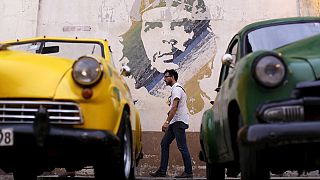 Unthinkable until recently, later on Sunday the Cuban capital Havana will welcome an American president for the first time in 88 years.
Barack Obama's 48-hour visit follows an agreement to end the five decades of estrangement that began with the Cuban revolution in 1959.
The White House says the trip is a step towards better lives for Cuban people suffering under a US economic embargo.
Obama has healed some rifts with Latin America. Will the next president reopen them? https://t.co/25v239miXopic.twitter.com/QSexGRn5wg

— The Economist (@TheEconomist) 19 March 2016
"The most important thing in the world after 90 years is for a black president come here to Cuba to unite the relationship and end all the wickedness that existed, for the (economic) blockade to end, for the humiliation over the Guantanamo Naval Base to end. The world needs peace," said one Havana resident, Maria de los Angeles Flores.
"Hopefully it is really true that the president and the United States government's intention is sincere friendship, with no conditions, with no interests, rather a relationship of respect," added local man Luis Manuel Perez.
On Saturday a major US company became the first to sign a hotel deal with Cuba since the revolution.
Starwood Hotels & Resorts Worldwide announced a multi-million dollar investment to manage properties in Havana.
The US Treasury approved the move to get round the embargo, which Obama wants to end but the Republican leadership in Congress has blocked.
Tour Operators Cheer Newest Relaxation of Cuba Travel Restrictions | ensync travel services https://t.co/uDq3BVvt8s#Cuba#CubaVisit

— ensync travel (@ensynctravel) 20 March 2016
Major differences remain, notably over Cuba's one-party rule and repression of dissidents.
Obama's visit is opposed by some critics of the Cuban government, including reportedly by leading dissident Berta Soler of the "Ladies in White" protest group.
But the focus on the coming days is expected to be on reconciliation.
I've never heard Obama's name be mentioned in so many passing conversations as at Havana airport today. Excitement palpable #ObamaenCuba

— Harriet Alexander (@h_alexander) 19 March 2016
Obama opening #Cuba providing legitimacy to one of the world's most odious dictatorships. https://t.co/V9tsKx9pSHpic.twitter.com/n0aBx5W490

— Vigilant Patriots (@VigilPatriot) 20 March 2016