Former Porsche boss cleared of market manipulation in VW takeover attempt
Comments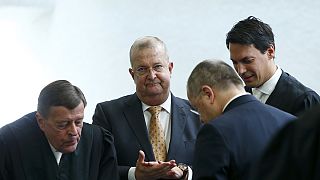 The former chief executive of luxury carmaker Porsche, Wendelin Wiedeking, has been acquitted of alleged stock market manipulation, along with its ex-chief financial officer Holger Haerter.
The court case arose from Porsche's controversial attempt to take over its much larger relation, Volkswagen in 2008.
Wiedeking was subsequently accused of misleading the financial markets about his intentions.
The presiding judge Frank Maurer was dismissive of the prosecutors' case and said: "There is absolutely nothing to the allegations."
He said a conviction would not have been "rationally justifiable" adding "The board had no secret plan".
'A company takeover is not like buying some bread rolls'
Outside the court Wiedeking expressed his relief: "I am very pleased about the acquittal. I think the court has decided correctly. I have said at the beginning of the trial and throughout the seven years it went on for that I am innocent, we are innocent. We have always communicated correctly and rightly at Porsche and the court today has clearly acknowledged this."
Defence lawyer Walther Graf was particularly critical of the prosecutors: "The criminal court had to teach the prosecution today that a company takeover is not like buying some bread rolls, which can be decided over a beer. The fact that the prosecution has to be told this shows the quality of their work."
Prosecutor Heiko Wagenpfeil said: "We will check [the court ruling] and then decide with patience what we are going to do with it."
The verdict is a blow to investors who are seeking billions of euros of damages in civil law suits.
Porsche was forced to abandon the takeover effort in 2009 because of the effects of the financial crisis on creditors, which pushed the company close to bankruptcy.
Ironically, it then had to be rescued by VW which subsequently bought Porsche's core carmaking business.