Shoes for really lazy people, coming soon
Comments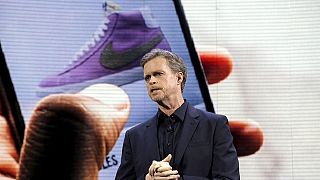 Sportswear firm Nike has finally unveiled the production version of its self-lacing shoes, as originally seen as a faked-up gimmick in the 1989 film 'Back to the Future'.
Football star Cristiano Ronaldo demonstrated the battery-powered sneakers, which are due to go on sale later this year, in time for the end of year holiday.
Wow! Thanks Nike</a> for letting me be the first athlete trying the new HyperAdapt 1.0 <a href="https://twitter.com/hashtag/nike2016?src=hash">#nike2016</a> <a href="https://twitter.com/hashtag/nikeinnovation?src=hash">#nikeinnovation</a> <a href="https://t.co/RVWZgJjkqf">pic.twitter.com/RVWZgJjkqf</a></p>&mdash; Cristiano Ronaldo (Cristiano) March 16, 2016
Nike's Tiffany Beers explained how they work: "You take the shoe you just slide it on, when your heel hits the sensor it will automatically close and adjust to a comfortable fit. Then if you want further adjustment you press the tighten button or you press the loosen button.
There are, inevitably, a couple of catches. One is that every two weeks you have to recharge the batteries that work the tiny pulleys that lace up the shoes.
The other is that you have to join Nike+, its new/relaunched app programme, to be eligible to buy a pair. There is no information yet on the price.
This is not the first time these shoes have stepped out in public. Last October Nike gave a prototype pair to the film's star Michael J Fox to mark so-called Back to the Future Day
This is real. This is today. Coming spring 2016. cc: RealMikeFox</a> <a href="https://twitter.com/Nike">Nikepic.twitter.com/KPswXNojvA

— michaeljfox.org (@MichaelJFoxOrg) October 21, 2015