Donald Trump as US president would have a dangerous impact on the world economy according to the latest global risk assessment from the Economist Intelligence Unit.
On the campaign trail, Donald Trump's battle cry is "We will make America great again!" but that is not the view of the experts at the Economist Intelligence Unit (EIU), indeed very much the opposite.
In its latest global risk assessment, the research organisation has said that Trump being elected as leader of the United States would have a dangerous impact on the world economy.
Trump in the White House is rated as riskier than a vote for Britain to leave the European Union or a military clash in the South China Sea.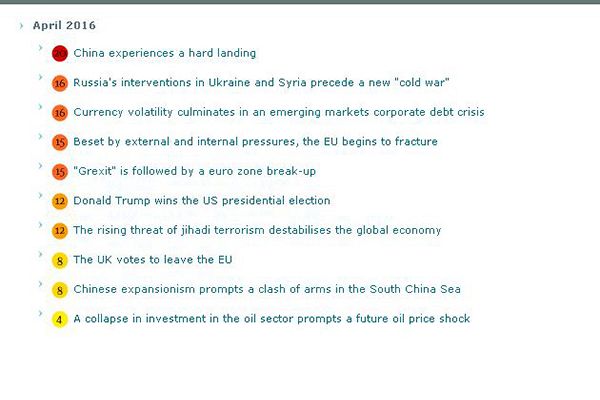 Among the events the EIU believes would be more dangerous than Trump gaining the US presidency are a sharp economic slowdown or 'hard landing' for China, as well as Russia's interventions in Ukraine and Syria leading to a new 'cold war'.
They see an increased possibility of Islamic extremist terror attacks: "His militaristic tendencies towards the Middle East (and ban on all Muslim travel to the US) would be a potent recruitment tool for jihadi groups, increasing their threat both within the region and beyond."
Trade risk warnings
In the context of a possible trade war with Mexico and China, Trump's opposition to free trade agreements is a major red flag for the people at the Economist Intelligence Unit.
They point out he is long on promises, like creating jobs, but short on details: "Thus far Mr Trump has given very few details of his policies – and these tend to be prone to constant revision."
Ohio Gov.Kasich voted for NAFTA, from which Ohio has never recovered. Now he wants TPP, which will be even worse. Ohio steel and coal dying!

— Donald J. Trump (@realDonaldTrump) 13 March 2016
I will bring our jobs back to the U.S., and keep our companies from leaving. Nobody else can do it. Our economy will "sing" again.

— Donald J. Trump (@realDonaldTrump) March 15, 2016
The Economist Intelligence Unit rates a Trump presidency as high impact, but moderate probability as they do not expect him to defeat Hillary Clinton, his most likely Democratic contender.
The Washington Post has also warned in an editorial of economic dangers from Trump being elected saying his proposed tariff on Chinese imports could spark a trade war and global depression.