Crimea annexation:"I want history to teach people"
Comments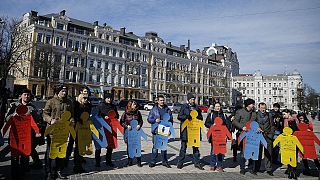 Protesters in Kyiv have held a silent commemoration for Reshat Ametov, a Tatar who along with other pro-Ukrainian activists were either killed or went missing amid Russia's invasion of the Crimean peninsula.
According to Human Rights Watch Ametov's death was symbolic of the lawlessness at that time.
Kyiv, silent demonstration in honor of Reshat Ametov, the first victim of occupation, died in 39 pic.twitter.com/NTKvg0j2JI

— Euromaidan Press (@EuromaidanPress) March 16, 2016
It is now two years on from the referendum which led to Russian President Vladimir Putin signing a treaty of accession with the self-declared Republic of Crimea. During that time official figures claim around 45,000 people left Crimea, over half of them Tatars.
Things have moved on since then. Jamala is a singer who originates from Crimea but who has relatives still in Crimea. She is about to represent Ukraine in this year's Eurovision Song Contest with a song about the 1944 forced deportation of Tatars in the Stalin era.
"My aim," she says, "is to raise this issue, tell the history of my family, tell the history of Crimean Tatars and avoid such things happening in the future. I want history to teach people."
Nadiya Dermanska who is a euronews reporter in Kyiv, says that Ukraine's desire to reclaim Crimea appears to have been has been over shadowed by other concerns such as economic and political problems as well as the conflict in the east of the country. There still remains, however, the unsolved problem of thousands of displaced people from the peninsula, most of whom are unemployed and forced to live on benefits.
NYT on Ukraine's (Muslim) Eurovision selection, who sings in Tartar about the 1944 Crimea ethnic cleansing. https://t.co/qdCBu6bmlt

— Yaroslav Trofimov (@yarotrof) March 4, 2016