"Rhetoric could derail Syria talks" warns UN after opening session
Comments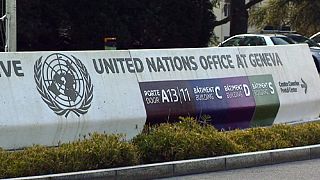 UN sponsored talks are due to resume today in Geneva aimed at creating a roadmap to end the conflict in Syria. But after day one the UN's Syria envoy warned that provocative rhetoric on both sides could derail efforts.
Speaking to euronews after Monday's session Bashar al Ja'afari who heads the Syrian government delegation accused the opposition of setting preconditions.
"Our dialogue is based on the fact there are no pre-conditions. We're already negotiating with many opposition groups which are fragmented and don't have a unified programme. Pre-conditions signify a blockage of dialogue and the desire for this new round of talks to fail, like the last time."
The Syrian opposition may be fragmented but the intention to make some progress has been implied. Both sides, who are still a long way from holding face to face talks, been told there is no plan B just a return to war.
Opposition delegate Hind Aboud Kabawat told euronews:
"We're here in Geneva for one thing. We want to make the Syrian life and the Syrian people's lives better. We thank the United Nations very much for their role, I know they're doing everything they can for peace and to have a better life for Syrian. And we as a Syrian opposition from the HNC, our boss are the millions who are in need to stop this and to have a full transitional governing body for the Syrian people."
From Geneva in Switzerland, Faiza Garah for euronews summed up:
Ahead of the meeting between the UN's emissary and the Syrian opposition, several questions remain unanswered over these new talks and whether they will result in a political accord that will open the door towards the end of the war in Syria."