US: Donald Trump accused of stoking violence with 'divisive rhetoric'
Comments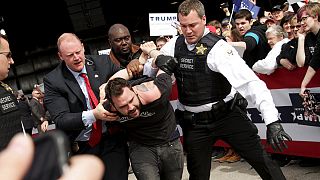 A man has been detained after an attempt was made to breach a security cordon as US Republican presidential contender Donald Trump addressed a rally in Ohio.
The disturbance on Saturday came just a day after rowdy protests shut down another campaign event in Chicago.
On Friday in Chicago, the idea of fighting to take the country back went from figurative to literal: https://t.co/eepf3NGEsi

— The New Yorker (@NewYorker) 13 March 2016
Trump blames supporters of Democratic presidential hopeful Bernie Sanders for the trouble.
And he says the only way to stop protesters is to press charges.
"I don't want to ruin people's lives. But the only way we're going to stop this craziness is if we press charges. Because then their lives are going to be ruined. They're going to know their lives are going to be ruined," Trump told supporters.
"So I'll just tell you, folks, from now on, if you do anything, we're pressing charges, okay?"
Republican rivals accuse Trump of stoking a nervous atmosphere with his fiery rhetoric. Democratic hopeful Hillary Clinton thinks the same.
"The ugly, divisive rhetoric from Donald Trump and the encouragement of violence and aggression is not only wrong, but dangerous," Clinton said in front of her supporters.
"If you play with matches, you can start a fire you can't control."
"If you play with matches, you can start a fire you can't control. That's not leadership—it's political arson." —Hillary on Trump's rhetoric

— Hillary Clinton (@HillaryClinton) 12 March 2016
President Barack Obama has also waded in, saying political leaders should be trying to bring people together, not turning them against each other.