Who wants to beat a billionaire? Clinton, Sanders clash
Comments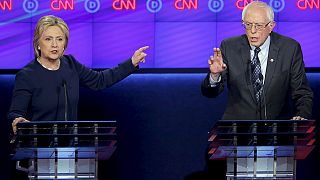 The gloves were off as US Democratic candidate Bernie Sanders took on frontrunner Hillary Clinton in a televised debate on Sunday (March 6).
The argument quickly became over who was in the best position to beat Republican Donald Trump in the Nov. 8 election.
"I think Donald Trump's bigotry, his bullying, his bluster, are not going to wear well on the American people," Clinton said. "We have to end the divisiveness, we have to unify the country."
Sanders cracked up the audience with a joke. "We are, if elected president, going to invest a lot of money into mental health. And when you watch these Republican debates, you know why we need to invest in mental health."
The debate in Flint, Michigan, which is suffering a water contamination and public health crisis, also touched on trade and the auto industry bailout, race and religion. Once again, Clinton hit hard at Sanders on gun control.
"Giving immunity to gunmakers and sellers was a terrible mistake," Clinton said. "Because it removed any accountability from the makers and the sellers."
Sanders has struggled to slow Clinton's march to the Democratic presidential nomination since she scored major wins in Super Tuesday primaries.
And while Sanders won the caucuses in Kansus, Nebraska and Maine over the weekend, the former First Lady picked up Louisiana, which had the most delegates on offer — meaning her lead of about 200 pledged delegates remains essentially unchanged.
Tonight proved once again that we are well on our way towards winning this Democratic primary. Thank you, Maine! https://t.co/LA5bXw8z95

— Bernie Sanders (@BernieSanders) March 7, 2016