Tusk tells migrants: Do not come to Europe
Comments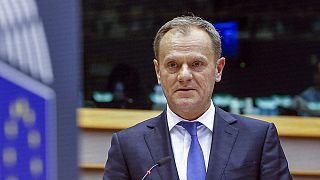 The European Council President Donald Tusk has warned potential migrants not to risk coming to Europe.
Speaking after talks with the Greek Prime Minister Alexis Tsipras, Tusk said unilateral actions by EU member states is hurting solidarity and must stop.
"I want to appeal to all potential illegal, economic, migrants wherever you are from. Do not come to Europe. Do not believe the smugglers. Do not risk your lives and your money, it is all for nothing," he said.
With thousands of migrants now trapped on the border between Greece and the former Yugoslav Republic of Macedonia, Athens wants sanctions imposed on member states which have set up temporary restrictions on their frontiers.
The burgeoning crisis adds to last year's chaos when more than a million migrants and refugees arrived in the EU, many fleeing the war in Syria and walking from Turkey northwards.