Paris and London put pressure on Russia over attacks in Syria
Comments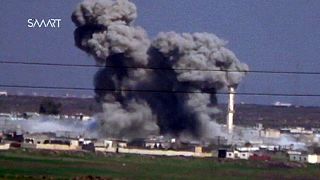 Despite a fragile ceasefire in force in Syria, amateur video footage uploaded to a social media website purports to show a Russian plane firing rockets over a town in the south of the country.
This as France and Britain on Thursday called on the Syrian government and its Russian ally to end attacks on Western-backed rebels.
After a joint UK-France summit, the British Prime Minister David Cameron said: "We welcome the latest truce, it could provide an opportunity to make progress at next week's peace talks.
"But these will only succeed if there's a change of behaviour by the Syrian regime and by its backers.
"That is why tomorrow, Francois (Hollande) and I, together with (German) Chancellor (Angela) Merkel, will speak with (Russian) President (Vladimir) Putin. Russia needs to end its attacks on Syrian civilians and the moderate opposition."
Other footage that has come out of Syria showed a series of artillery shells exploding close to the border with Turkey, sending a group of visiting international reporters running for cover.
German journalist Christoph Wanner, from the channel N24, told Russian television: "It was terrible, really terrible. We were filming a ruined village in the mountains.
"All of a sudden a couple of shellings … perhaps from Al-Nusra or the Turks. I'm not sure."
Russia reported more than 14 ceasefire violations in 24 hours, but the US insisted there had been no significant violations.
Syrian peace talks are due to resume on March the 9th in Geneva.