US VP slams campaign rhetoric about Mexico as "damaging" and "incrediby inaccurate"
Comments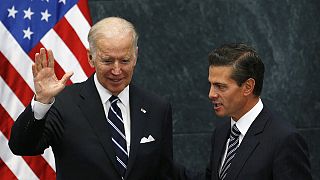 Visiting Mexico, the US Vice-President has apologised for the tone of some of his country's presidential campaign rhetoric.
Biden rues 'damaging' tone against Mexico in U.S. presidential race – https://t.co/MXpbKt9SJ3pic.twitter.com/Z7Gvm6XAfA

— Eagle News PH (@EagleNewsPH) February 26, 2016
Joe Biden told his audience in Mexico City that some comments about the Mexico and immigrants have been "damaging and incredibly inaccurate."
" I feel almost obliged to apologise for what some of my political colleagues have said. It is about Mexico, about the Mexican people."
"It is a heated campaign season, and I just want you to know, Mr. President, that the heated rhetoric that you have heard from some of the competitors for the nomination for president, is not who we are as the American people."
Biden also reassured officials that the comments are not an accurate reflection of progress in the countries' bilateral relations.
Who is Biden referring to?
The US vice president did not name names.
However, several Republican presidential candidates have proposed measures including:
Building a wall along the entire US-Mexico border
Deporting the 11 million people estimated to be living in the US illegally.
Here's how Trump plans to get Mexico to pay for the border wall https://t.co/RA6q4QqEZE | AP Photo pic.twitter.com/2vEoTdqLkC

—

POLITICO

(@politico) February 26, 2016
Republican presidential nomination candidate Donald Trump has made his position clear.
"Mexico is just killing us at the border. At the border. And with trade. Mexico is killing us. Absolutely. We'll do the wall, don't worry, we're going to do the wall. We're going to do the wall and, by the way, who's going to pay for the wall? Mexico."
Biden's business trip
Joe Biden was accompanied on his visit by US Commerce Secretary Penny Pritzker, Energy Secretary Ernest Moniz and Interior Secretary Sally Jewell.
Trade between the US and Mexico topped 530 billion US dollars in 2015, according to the US Census Bureau.