Democratic candidates up the campaigning as they eye key states in primaries
Comments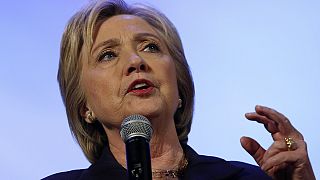 There have been lots of world headlines about Donald Trump and the Republican primaries, but the top Democratic candidates are also on the campaign trail.
Ahead of a primary vote in South Carolina on Saturday, and the massive voting on so-called Super Tuesday next week, former President Bill Clinton has been campaigning for his wife.
"So, why is there so much frustration?" he asked a crowd in Virginia.
"Because that beautiful picture that President Obama painted of the future and the present – so many Americans look at that picture and can't find themselves in it.
"Hillary is running for President to put everybody in the picture of America's future. That's what she is intending to do."
Hillary Clinton's main challenger is Bernie Sanders, and latest opinion polls put the former First Lady and Secretary of State ahead in South Carolina by as much as 30 points.
She is also said to be the favourite in many of the other states voting on Tuesday.
John Fortier, a political analyst at the Bipartisan Policy Center, told euronews: "The Democratic Party has a strong component of minorities and especially African Americans.
"They make up over half the voters in South Carolina and they make up over a quarter of the voters all though the country.
"Bernie Sanders, by doing well in the first couple of states, does not necessarily translate into doing well going forward. And Hillary Clinton has that strength, we think."
Some experts say Hillary Clinton's win in the primary in the state of Nevada last week was a big boost for her campaign, giving her more momentum.
Euronews' correspondent in Washington Stefan Grobe reported:
"Bernie Sanders has spent most of the week outside of South Carolina. It might suggest that he is all but writing off that state.
"And it's also an indication that Hillary Clinton's southern firewall seems to be holding."