Cameron's EU reform deal gets mixed reactions from Britons
Comments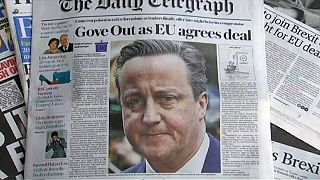 Londoners gave mixed reactions on Saturday (February 20) to the possibility of leaving the European Union, the morning after the British prime minister agreed the new deal with EU leaders.
David Cameron hopes it will persuade Britons to vote yes to stay in the bloc in the June 23 vote.
"I'm largely minded to vote to stay in it (the EU)," said Jonathan Mills. "I just think the last couple of weeks or whatever (British Prime Minister David) Cameron and the ministers and the prime ministers of Europe et cetera, it's been a bit of a sort of window dressing really, trying to say that they have changed anything and I'm not sure that they have changed anything that substantially."
"Equally I think we should be part of Europe," said JJ Evendon. "Without Europe I don't think the UK will survive as a country and (I think) a lot of companies, particularly financial centres, will lose out to Europe and it's a big part of our economy."
Cameron's legally-binding agreement offered concessions on the welfare rights of migrant workers, but for Londoner Victor the change does not go far enough to address what he sees as a critical issue.
With four months before the referendum on EU membership takes place, some people are saying Cameron's agreement doesn't go far enough.
"Too many people come here sitting on social, doing nothing, it's just no good," he said, adding that he will vote "Out" in the referendum.
The front pages of British newspapers on Saturday were dominated by the events in Brussels. The best-selling "The Sun" opted for a tabloid version of the summit, while the "The Daily Telegraph" pictured the prime minister looking perplexed next to a headline about one of his closest political allies, Justice Secretary Michael Gove, campaigning to leave the EU.
Cameron is due to make a statement to parliament on Monday (February 22), triggering the start of the referendum election campaign.
Opponents of EU membership say Britain would prosper outside what many say is a doomed Germany-dominated bloc that punches way below its weight on the world stage.