Putin and Orban talk migrants, EU relations and gas in Moscow
Comments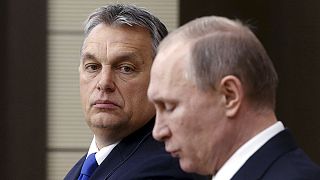 Russian President Vladimir Putin has welcomed Hungarian Prime Minister Viktor Orban to Moscow.
Putin spoke about the migrant crisis in Europe and the necessity to stabilise the situation in the countries of origin.
"In order to solve migrant problem in Europe we need to address the root causes, we need to re- establish proper statehood, the economies and the welfare state of those countries involved, so that people can live in their own country or return to it. We need to create all the necessary conditions for that and it means, before everything, to annihilate terrorism," said the Russian president.
#Hungaria'n PM #Orban meets #Putin in #Moscow, calls for 'normal' #Europe-#Russia relations https://t.co/OoMB2PVSeNpic.twitter.com/L3q5INoEqn

— Victor Kuhnovets (@vicktop55) February 17, 2016
Prime Minister Orban is looking for his EU partners to end sanctions against Russia introduced as result of Moscow's annexation of Crimea and the ongoing situation in the east of Ukraine: "By middle of the year it will not be possible for the EU to renew sanctions automatically. The reason is that more and more countries, though I speak from a Hungarian point of view, but other member states have already talked about it publicly that we need to have an open debate within the EU about what to do about the sanctions."
Orbán in Moscow: Putin satisfied with HU-RU relations, despite known problems and trade issues pic.twitter.com/ZRrLl7mYTn

— Mariann Őry (@otmarianna) February 17, 2016
As well the burning migrant issue and EU Russian relations the the two leaders reached an accord to extend a gas deal, which will see Moscow supply Budapest until the end of 2019.
Hungary is dependent on Russia for more than 80 percent of its gas.