Quake hits New Zealand city of Christchurch
Comments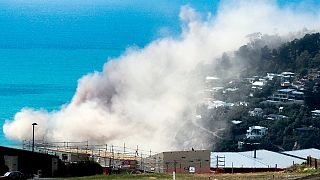 A magnitude 5.8 earthquake has shaken Christchurch, in New Zealand.
There have been no immediate reports of serious damage.
It is almost five years since a deadly, more powerful quake destroyed much of the city centre.
The US Geological Survey reported that Sunday's quake was centred 17 kilometres east of the city.
It was one of the largest since 2011, and people from across the South Island reported feeling the ground shaking. No tsunami warning was issued.
New Zealand sits on the "Ring of Fire," an arc of seismic faults around the Pacific Ocean, where earthquakes are common.