Syria 'cessation of hostilities' deal offers glimmer of hope
Comments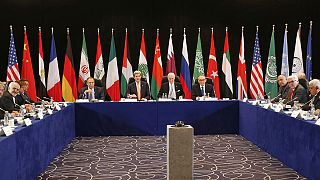 Implementation is the key to the new deal struck on Syria, with world powers aiming to bring an end to hostilities in a week.
What we need to see in the next few days are actions on the ground, in the field
As US Secretary of State John Kerry said: "What we need to see in the next few days are actions on the ground, in the field."
The crisis is uppermost on the agenda as the Munich Security Conference continues.
But while the accord has the potential to be the first diplomatic breakthrough in a conflict that has fractured the Middle East and killed at least 250,000 people, it falls short of a formal ceasefire, since it was not signed by the main warring parties – the opposition and government forces.
We've joined 160 aid agencies to call for ceasefire & unimpeded access in Syria https://t.co/U4njXU3P9e#SyriaCrisispic.twitter.com/BypoDDSm38

— UNICEF (@UNICEF) 12 Février 2016
What is more, President's Assad's ally Russia looks set to continue its bombing as the Syrian government's advances around the northern city of Aleppo force tens of thousands of people to flee their homes.
Russian Foreign Minister Sergei Lavrov said Moscow would not stop bombing as the deal did not apply to ISIL or al-Nusra jihadists.
"Our airspace forces will continue working against these organisations," he said.
The West however says Russia has, in fact, mostly been targeting other insurgent groups, including some that Western countries support.
NATO Secretary General Jens Stoltenberg said Russia must halt strikes on insurgents other than ISIL for any peace deal to work.
"Russia has mainly targeted opposition groups and not ISIL. Air strikes of Russian planes against different opposition groups in Syria have actually undermined the efforts to reach a negotiated, peaceful solution." he said.
But Stoltenberg also welcomed the deal.
"The migrant and refugee crisis in Europe is mainly fuelled by the war in Syria and therefore I welcome very much the agreement that was reached here in Munich late last night. The important thing now is of course the implementation – that we see that this agreement is translated into realities on the ground."
#NATO to assist with the #RefugeeCrisishttps://t.co/wkqdjhoqTi#DefMinpic.twitter.com/wCjYYS25Nm

— NATO (@NATO) 11 Février 2016
There is also a pledge to provide rapid humanitarian access to besieged civilians in need – an aid plan being discussed on Friday in Geneva where it is hoped full peace talks can finally get underway before the end of the month.
The United Nations World Food Programme (WFP) says it has started distributing urgently needed food to people displaced by the recent surge in violence in northern Aleppo.
Cross-border convoys help us #SupportSyrians displaced by surge in violence w/ critical food https://t.co/HTPUNm1K5wpic.twitter.com/uKjK1zl1Ah

— World Food Programme (@WFP) 12 Février 2016