French central bank forecasts first-quarter growth improving to 0.4%
Comments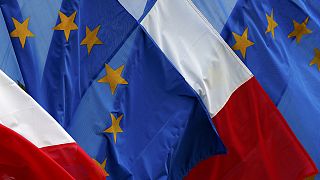 France's economy is on course to expand 0.4 percent between January and March.
So says the French central bank in its first forecast of GDP for the quarter.
That would be a pick-up from the final three months of last year, when the eurozone's second-biggest economy eked out growth of just 0.2 percent. The economy expanded 0.3 percent in the third quarter of 2015.
The growth estimate was included in Bank of France's monthly business sentiment survey which showed morale in the industrial sector rose to the highest level since May 2011.
The survey results showed "car making, chemicals, electrical equipment and agri-food industries were particularly dynamic and orders picked up, including from abroad".
Those surveyed in the services sector said hotels and restaurants continue to suffer after the November jihadist attacks in Paris.
Weak growth in France is putting pressure on the government's attempts to cut the budget deficit.