Ecuador: pro-Kurdish protesters clash with police at anti-Erdogan demo in Quito
Comments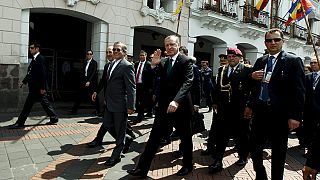 Scuffles broke out between pro-Kurdish protesters and police in the Ecuadorian capital, Quito, on Thursday.
The demonstrators were protesting against the policies of Turkish President Recep Tayyip Erdogan.
They gathered peacefully, amid tight security, outside the National Higher Studies Institute before Erdogan was due to arrive for an event there.
Scuffles later erupted when some protesters managed to enter the institute and were removed by police.
According to local media, a member of Erdogan's security entourage attacked a protester as the Turkish president exited the building.
Meanwhile, Erdogan and his Ecuadorean counterpart Rafael Correa have signed a series of bilateral deals to boost diplomatic and trade relations between the two countries.
The Turkish president is on a week-long trip to South America.