20,000 Syrian refugees stuck on Turkish border after fleeing Aleppo
Comments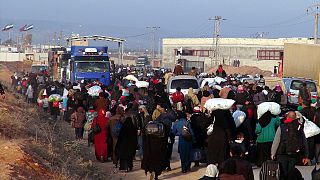 Tens of thousands of people are leaving the Syrian city of Aleppo or the refugee camps on its outskirts and fleeing towards Turkey.
Some 20,000 are reportedly stuck at the border crossing of Kilis, and more are on the way. If Syrian government forces launch a full-blooded assault to oust rebels and militant Islamists, it has been estimated as many as a million people may become refugees.
Aleppo is the anti-Assad rebel Syrians' major prize. It is Syria's largest city and business centre. On Wednesday its supply route north to Turkey fell to government forces, which now almost entirely surround the city.
In the last 48 hours, following the stalling of Geneva peace talks, government forces have intensified their ground offensive, while the Russian airforce has flown nearly 1000 sorties in the heaviest air bombardment of the near five-year war.
Since 2012 much of the city has been in rebel hands, but lose it and they face the prospect of losing the entire war. The Saudis have recognised they are in dire straits, and say they are prepared to deploy ground troops if their allies do the same.
That is unlikely to happen any time soon. In the meantime media activists in Homs, another rebel-held city, claimed the Russians had dropped internationally-banned cluster munitions that had killed or maimed many civilians. Neither Syria nor Russia is a signatory to the cluster bombs "convention": http://www.un.org/disarmament/content/slideshow/ccm/ banning the weapons.