Syrian opposition HNC pulls out of Geneva peace talks
Comments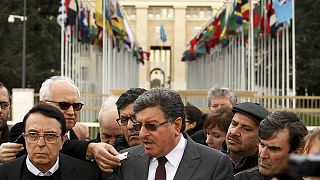 The list of attendees at the United Nations-brokered peace talks on Syria has yet to be set in stone.
On Tuesday, February 2, the High Negotiations Committee (HNC) Syrian opposition group decided not to meet with UN special envoy Staffan de Mistura at the Geneva discussions.
Spokeswoman Farah al-Atassi cited a new Syrian military offensive on rebel positions as the group's reason for declining the meeting.
"Our objective is to ensure the immediate implementation if paragraphs 12 and 13 of UN Security Council resolution 2254 before the start of any negotiation. It's clear from the current situation that the regime and its allies — in particular Russia — are determined to reject the UN's efforts to implement international law," she said.
The HNC had earlier said the UN must put an end to Russian-backed attacks on civilian areas in Syria, lift blockades and stop ongoing sieges, before it would enter into discussions.
It now accuses Russia of "gravely threatening the political process" after forces loyal to Syrian President Bashar al-Assad and backed by Moscow claimed to have advanced on Syria's largest city, Aleppo.
The national official news agency, SANA, reported the capture of the village of Hardatneen, north of the city.
It came as de Mistura began a second day of peace talks by hosting the Syrian government delegation for the second time since discussions began on Friday, January 29.