China: billions on the move for the Year of the Monkey
Comments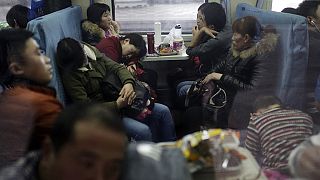 Tens of thousands of people in Beijing are heading home for family reunions to mark the Lunar New Year on February the 8th.
This year, the annual mass migration started on January the 24th and will last until March the 8th.
Cutest Year of the Monkey 猴 Photo Journal: Making monkey – The Mainichi https://t.co/hIY1bbUYBtpic.twitter.com/5zo47Oht0Z

— ClaireFromVancouver (@ClaireFromYVR) January 23, 2016
An estimated 2.91 billion people will be travelling.
"I miss my wife and child," says Lou Xianzhen from Shandong Province. "Last time I went home was October. I am looking forward to the visit."
With economic growth slowing in China, some have more practical reasons for going home.
"I am going to look for a job while I am back home," said a woman traveller. "If I don't find one, I will come back. My husband is still there with my children."
The 40-day travel frenzy surrounding the week-long holiday will last until March the 3rd.
Numbers are expected to be up 3.6 percent on last year.
In pictures
'Nearly 100,000' Chinese new year travellers stranded https://t.co/UxPZbDuTrSpic.twitter.com/MufYm2rclT

—

AFP

news agency (@AFP) February 2, 2016
Thot u had a bad travel story? | At least 100K Chinese new year travellers stuck at station https://t.co/Mdm5tnSN3mpic.twitter.com/bxW8jP5lYX

— Tanvi Madan (@tanvi_madan) February 2, 2016
Bus, train operating hours in Singapore to be extended on Chinese New Year eve https://t.co/UYt5WFTTQPpic.twitter.com/txa4oSlVEI

— The Straits Times (@STcom) February 2, 2016
Nothing says Chinese New Year bright red lanterns that bob & shine a good luck message. https://t.co/uXh2onaanbpic.twitter.com/j2iCds2hvr

— Smithsonian Magazine (@SmithsonianMag) January 27, 2016
People are celebrating all over the world, not just in China.
"Happy Chinese New Year" gala celebration is held at Almirante Reis street, Lisbon, Portugal pic.twitter.com/dpIesav4dT

— China Xinhua News (@XHNews) February 1, 2016