Another night in the cold for refugees en route to FYROM
Comments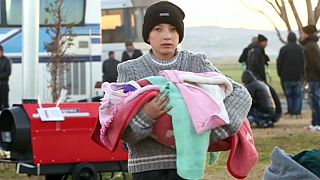 Large crowds of migrants in Greece join thousands already waiting to cross the border into the Former Yugoslav Republic of Macedonia (FYROM) on Tuesday (January 2).
With the official border camp at Idomeni full, new arrivals have been forced to camp at a petrol station.
Iraqi migrant Sardar described the tough conditions there.
"[T]hey told us we have to wait here, tomorrow then you can go because border, border is so crowded, so we have to wait here."
"And it's not possible keep all these people in the tents and there is not too much facilities, so yeah, we spend tonight on the ground. We slept on the ground, and it's too cold," added Sardar.
Further north, at the Macedonian border with Serbia, the United Nations refugee agency (UNHCR) has organised camps like the one here in the Serbian city of Presevo.
It is afraid about what will happen if countries refuse entry.
"The risk is that refugees will try to get in a different way," explained Astrid Castelein, from the UNHCR. "They will look for illegal ways to enter like smuggling and trafficking. Then the situation will get dangerous."
Taxi drivers across the border in the Former Yugoslav Republic of Macedonia have ended their barricade of trains transporting refugees. They had been demanding to be allowed to transport refugees to Serbia.
Buses and trains are so organised that taxi drivers said their income from refugees was down.