Venice carnival goers asked to lift masks for security
Comments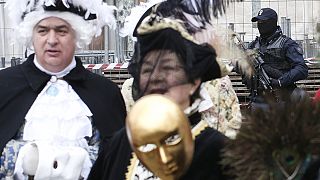 It may be a tradition dating back to the 11th century but masks had to be lifted upon police request at this year's famous carnival in Venice.
Revellers were subjected to extra security measures as they attended Sunday's Flight of the Angel show in St Mark's Square – one of the highlights of two weeks of festivities.
Wearing beautiful hand-painted masks and elaborate costumes to stroll around the canals of Venice is a key part of the carnival, which is believed to have started nine centuries ago after a military victory.
Venice Carnival is on! Which masked ball will YOU attend this week? https://t.co/WIIxybgOysESATourOpera</a> <a href="https://twitter.com/hashtag/Italy?src=hash">#Italy</a> <a href="https://t.co/QTfvcTVpPA">pic.twitter.com/QTfvcTVpPA</a></p>&mdash; BonVoyageurs (BonVoyageurs) January 31, 2016
Most of the tourists accepted the extra security checks as a necessary inconvenience: "I think its normal because of the ISIL terrorists."
For others attending the carnival was an act of defiance:
"They've spread terror but we are fighting against it just by being here and showing that we are not afraid of anything".
The Italian authorities decided to increase surveillance during the festival following November's attacks in Paris, but rejected a plan to ban people from wearing their masks.
The Carnevale di Venezia is among the oldest carnivals in the world.
Carnival madness first began centuries ago as a period of excess before the rigours of lent, the 40 days of fasting that traditionally precede Easter.
Venetians could then hide their identities behind masks and do as they pleased. It was seen as a pressure valve to ease class tensions, allowing the poor, for a brief and controlled moment, to break Venice's rigid, oligarchical social order.
During the modern carnival, masked balls are held in ancient Venetian palaces, while concerts and gondola parades are organised in the piazzas and canals.
Security may have been tight this year but in time-honoured tradition thousands were able to enjoy the spectacle of an angel descending from the bell tower of St Mark's Basilica – as only a modern day angel can, on a zipwire.
Today with the "angel flight" officially began in the Venice carnival.. calicobustle</a> I would see well here! :) <a href="https://t.co/rK0ctnYTXx">pic.twitter.com/rK0ctnYTXx</a></p>&mdash; Sonia (SoniaTomasoni) January 31, 2016
The ceremony used to be called the flight of the Turk and dates back five centuries when a young Turkish acrobat walked a tight rope stretched from a ship anchored at the pier of St. Mark's Square all the way to the top of the St. Mark's bell tower.