Portugal goes to the polls for a new president
Comments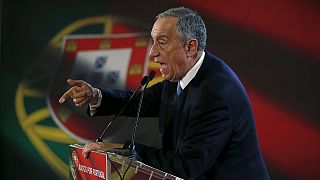 People in Portugal have been voting in the presidential election against an unstable political backdrop that has seen the country ruled by a shaky left-wing alliance since November.
Opinion poll frontrunner, centre-right candidate Marcelo Rebelo de Sousa, has promised to bring some stability to government if he comes out on top in the first round.
But Antonio Sampaio da Novoa is tipped to make it to the second round should there be one, and he enjoys widespread support from the moderate left and three former presidents, two of them socialists.
Also on the left is Maria de Belem who served as president of the Socialist Party from 2011 to 2014 and as a minister in two socialist governments.
At 39, sociologist Marisa Matias is the youngest of the candidates and is supported by the far-left.
There are ten names on the ballot paper and unless one of them wins outright in the first round a second poll will take place on the fourteenth of February.
Whoever triumphs in the end will take over from conservative President Anibal Cavaco Silva, a social democrat.
However many analysts don't expect the new government to last through its four year term.
The socialist-led administration has to rely on far-left MPs and is struggling to reconcile pledges to end austerity with budget deficit cuts promised tot he EU.