Ukraine beefs up sanctions against Russian products
Comments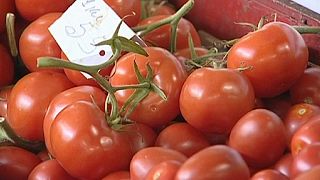 Ukraine has imposed new sanctions against Russia as a tit-for-tat trade war escalates.
On Wednesday, vegetables, fish and confectionery were added to a list of Russian products already banned from Ukraine, such as beef, tobacco and chocolate.
The move comes in response to Moscow's embargo of Ukrainian food imports and suspension of a free trade zone between the two countries.
"These are our measures to counter Russian aggression, and we will continue to protect our domestic market," said Ukraine's prime minister Arseniy Yatsenyuk. "While Ukrainian soldiers protect the border of our independent state, the government will protect our economic territory and our economic interest."
Russian border closed to Ukrainian transport
Another issue of concern to the Kyiv government is a Russian ban on Ukraine transporting its goods across Russian territory to Kazakhstan, forcing them to travel through Belarus.
Euronews correspondent Maria Korenyuk is at the Cabinet of Ministers in Kyiv.
"Ukraine has already filed a complaint with the World Trade Organization over Russia's trade embargo. Kyiv hopes that the ban on the transportation of Ukrainian goods will be considered at the meeting of organisation's General Council in the later half of February."