Baywatch star causes chaos in French parliament over foie gras
Comments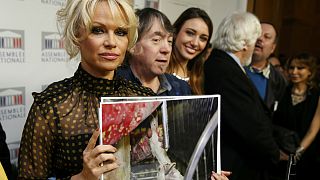 Canadian-born actress Pamela Anderson, who is the former star of the popular Baywatch series, caused chaos in the French parliament when she campaigned in support of a bill aimed at banning the traditional method of making foie gras .
Pamela Anderson's crusade against foie gras slammed by members of French parliament https://t.co/W0j6GAbmFipic.twitter.com/iChhoeoISP

— Yahoo News (@YahooNews) January 19, 2016
Anderson who is vegan, has been an outspoken animal rights advocate for years. She has posed for multiple adverts promoting a vegetarian lifestyle for activist group PETA.
"In 1977, Brigitte Bardot came to Canada to focus international attention upon the baby seal slaughter. I was ten years old at the time, yet she inspired me to actively oppose the cruel clubbing of seal pups and to recognize that animals must have a right to not be cruelly abused by humans. And now in honour of Brigitte Bardot I as a Canadian have come to France to voice my opposition to an industry that is equally as cruel as the baby seal massacre," Anderson said.
Despite a media scrum in parliament Anderson still got her message across that she considers the force feeding geese and ducks for their livers as cruel, although there was little support among lawmakers.
France produces nearly 20,000 tonnes (22,000 tons) of foie gras per year. Its main export markets include Japan, Spain and Belgium. About 30,000 families in France depend on the sector for a living.