Switzerland 'seizes assets from migrants' to cover costs
Comments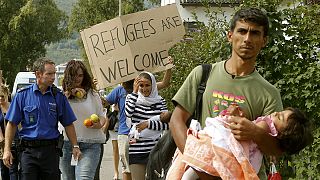 Migrants bound for Switzerland may be in for an unfortunate surprise.
Local broadcaster SRF says that those crossing the border must surrender to the state any assets worth more than 1,000 Swiss francs – that is 914 euros – as a contribution towards their upkeep.
It's also reported that refugees who win the right to stay and work in Switzerland have to surrender 10 percent of their pay for up to a decade until they repay 15,000 francs (nearly 14,000 euros).
"This is undignified," SRF cited Stefan Frey from refugee aid group Schweizerische Fluechtlingshilfe as saying.
"This has to change."
SRF cited the state migration authority SEM as justifying the measure, noting the law calls for asylum seekers and refugees to contribute where possible to the cost of processing their applications and providing social assistance.
"If someone leaves voluntarily within seven months this person can get the money back and take it with them. Otherwise the money covers costs they generate," an SEM spokeswoman told SRF.
The Swiss practice has been revealed as Denmark amends its controversial moves to confiscate refugees' possessions to pay for their stay – by increasing the amount they will be allowed to keep.
Several organisations, including the UN High Commission for Refugees, have censured the Nordic country for the proposal, as well as for others that will delay family reunification and make acquiring refugee and residence status more difficult.
Denmark's latest tactic to discourage migrants: Make them hand over their valuables. https://t.co/XYvwBc8qxTpic.twitter.com/YfdazZvMit

— New York Times World (@nytimesworld) 13 Janvier 2016